CASTLE DRACULA EXPERIENCE!
Dublin's Most Exciting & Unique Irish Attraction!!
Bram Stoker's CASTLE DRACULA Experience!!
Get ready for the Adventure of your Life! Castle Dracula is Dublin's most Exciting & Unique Irish Attraction. Millions of Euros have been spent creating an incredible Irish Castle Dracula Attraction for everyone to enjoy a Heart-thumping Experience with the incredible Characters from Dracula, while learning about Irish writer Bram Stoker, who wrote Dracula & was born beside Castle Dracula in Dublin. Brave Visitors journey through Castle Tunnels, over Spinning Bridges to the Vampire Courtyard, up to Dracula's Lair and down to the 'World's Only Graveyard Theatre' for a Show where they promise not to bite, unless.. Don't miss this Unique Irish Experience! (Strictly 14+)
Tickets: €15 Student (ID Required) / €25 Standard / VIP Tickets €50 – VIP Tickets includes VIP Seating, 'Bram Stoker & 'Dracula Book' signed by Castle Dracula Cast, 'Romping through Dracula' Book, Castle Dracula Note Pad & Blood Syringe Pen'
Click 'Book Here' and choose your preferred date / Any unhighlighted dates are Sold Out / You must have a Ticket to visit Castle Dracula.
WARNING: Strobe Lighting & Smoke Effects are used extensively in Castle Dracula, Not suitable for Pregnant Women, those with Heart or Breathing conditions, Claustrophobia or a Fear of Fun!
Email: BramStoker@CastleDracula.ie / From Irish Mobile 018512151 / From Irish Landline: 8512151 / From Overseas: 0035318512151 (Minimum Age 14yrs! – ID May be required)
This is your opportunity to enjoy the Amazing World of Bram Stoker and Dracula in Ireland… Don't Miss it!!
Thursday 18th 4pm – SOLD OUT
Thursday 18th 6pm – SOLD OUT
Friday 19th 4pm – SOLD OUT
Friday 19th 6pm – SOLD OUT
Saturday 20th – SOLD OUT
Saturday 27th – SOLD OUT
August,
Thursday 1st 4pm – SOLD OUT
Thursday 1st 6pm – SOLD OUT
Friday 2nd 4pm – SOLD OUT
Friday 2nd 6pm – SOLD OUT
Saturday 3rd – SOLD OUT
Saturday 10th 8pm – Tickets Available
Saturday 17th 8pm – Tickets Available
Saturday 24th 8pm – Tickets Available
Saturday 31st 8pm – Tickets Available
September
Saturday 7th 8pm – Tickets Available
Saturday 14th 8pm – Tickets Available
Saturday 21st 8pm – Tickets Available
Tuesday 24th 3pm – Tickets Available
Saturday 28th 8pm – Tickets Available
October
Saturday 5th 8pm – Tickets Available
Saturday 12th 8pm – SOLD OUT
Saturday 19th 8pm – Tickets Available
Saturday 26th 8pm – Tickets Available
November
Saturday 2nd 8pm – Tickets Available
What our visitors say on TripAdvisor.
The Castle Dracula Experience is very easy to get to:
Located in Clontarf across the road from where Bram Stoker was born in Dublin, just behind Westwood Fitness Club on the Clontarf Road, beside Clontarf Dart Train Station.  We meet the Audience in Westwood Club Reception at 7.30pm and take the Audience through to Castle Dracula at 7.45pm, the Castle Dracula Experience is the building behind Westwood.
By Bus, Bike, Train, Taxi or Hearse!!
• BUS from Abbey Street (Opposite the Abbey Theatre) the 130 stops outside Westwood Club
• TRAIN Clontarf Dart Train  Station is right next to Castle Dracula (Come out of Train Station and turn left and Westwood is on the left). Trains can be taken from Connolly, Pearse or Tara St Stations in the Dublin City Centre
• RENTAL BIKES are all over Dublin and it is a lovely Cycle to Castle Dracula in Clontarf
• TAXI'S are plentiful and it takes just 5 minutes from the City centre (Ask the driver to take you to Westwood Clontarf Reception)
• CAR if you are driving, there is plenty of parking outside Clontarf Dart Train Station which is next to Westwood Gym & Castle Dracula
Open Google Maps and type in Bram Stoker's CASTLE DRACULA or Westwood Fitness Clontarf!
On the night if you need directions call 01 8 51 21 51.  We are all just Dying to meet you…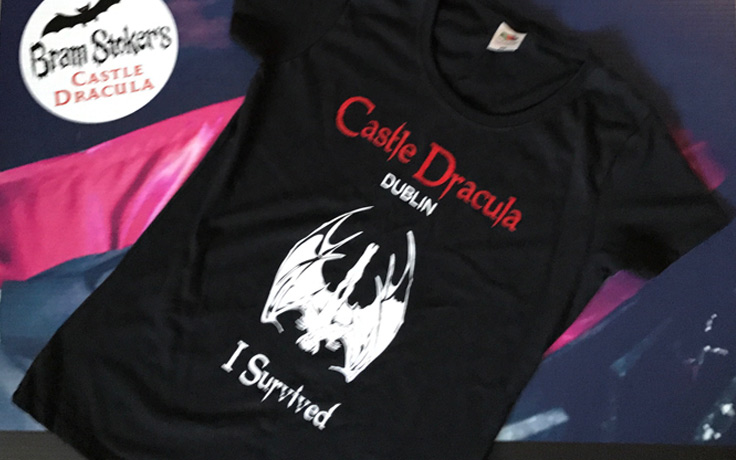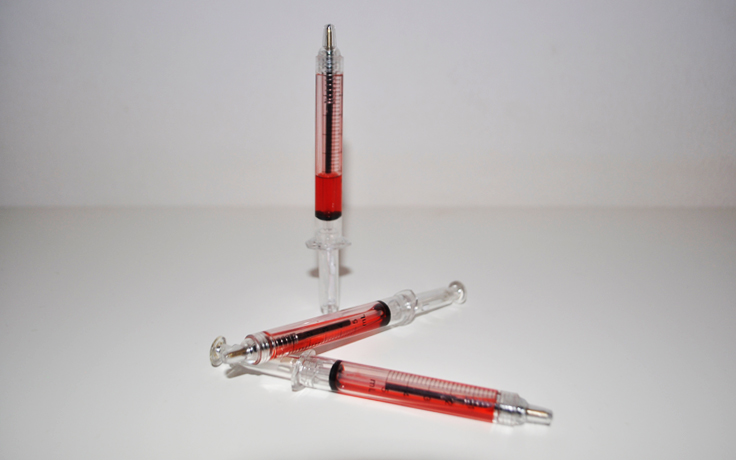 To order your Castle Dracula gift.
Call: (01) 8512151 or email BramStoker@CastleDracula.ie to reserve now.
Any items ordered can be posted or picked up on the night of your show.
Exhibits on view in Bram Stoker's Hall of Fame, Castle Dracula Dublin
The only Bram Stoker Museum in the World!
During the Interval you will have an Opportunity to visit the Bram Stoker Hall of Fame
We take you all the way through Bram Stoker's incredible Life, which is a case of Truth being more extraordinary than Fiction! 
Bram's Father Abraham & Mother Charlotte (Stories & Photos)

Three Iconic Dracula's, Klaus Kinski 1979, Bella Lugosi 1931, Christopher Lee 1958

The Stoker Family & No. 15 the Cresent, where Bram was born. (Accross the road from Castle Dracula)

Bram's First Picture Age 7, (he was bed bound for the first 7 Years of his Life due to a mysterious Illness)

Picture & History of the open Tombs of St Mitchans where Bram's Parents are buried in Dublin.
Bram's Trinity College Days with History, Trophies & Awards.

Posters of all the very best Old Dracula Movies. See how many you know?

Bram's love of the Theatre History & how he became a Theatre Critic while working in Dublin Castle.

Lock of Bram Stoker's Hair hanging in a Gold Pendant, cut on Bram's Deathbed by his Wife Florence & handed down through the Stoker Generations,
until it was donated to Castle Dracula. Bram's Lock of Hair is not on display anywhere else in the World. It does not get any more Macabre than that!
Posters of all the best contemporary Dracula Movies Do you recognise all of them?

Painting of Florence (Bram's Wife) painted by Oscar Wilde who was courting and very much in Love with Florence before he was jilted for Bram

Other Books & Plays by Bram Stoker

The Story of Bram joining the Lyceum Theatre in London for Actor Henry Irving.

Bram's Marriage to Florence

Florence & Noel (Bram's only Child) Pictured
Bram's Special Friendship with American writer Walt Whitman, Arthur Conan Doyle (Writer of Sherlock Homes), George Bernard Shaw, Mark Twain & others. Also Englands's Leaders of the day Gladstone & Churchill.

Bram's Medal of Bravery from the Royal Humane Society for Jumping into the Thames to save a poor soul from Drowning.

Original Copy of the Dracula Manuscript

Giant Picture of Bram Stoker

Bram's Death Certificate & Final resting place OR is it?